Quality Policy
Processing with quality natural rubber, satisfying the applicable requirements, looking for continuous improvement of the quality management system, business risk control and the permanent development of employees and producers.
Quality is primordial for us. All of our processes are in continuous development looking for complete customer satisfaction, as well as, the best service and assistance to our suppliers. Our quality is endorsed by our ISO 9001/2015 certification, which by modern international methods validates our capability and production quality.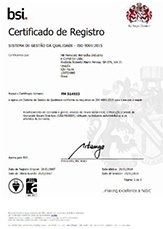 With a modern laboratory fully equipped, providing the required reliability in all types of analysis of natural rubber beneficiation, the cup lump sample analyses, and GEB tests ensure the homogeneity and fine-tuning of the process.
Besides ensuring the best product to our customer we are also concerned with the environment, we attend all legal requirements from environmental agencies, we also promote maintenance of all our affluents and their reuse in the industrial process. Preservation of our region's rivers and groundwater it's an obligation for us at NB Noroeste Borracha.
We work proactively with our raw material suppliers looking for the best quality possible. We provide a technical highly skilled team to assist our suppliers, always directed on the best practices to produce cup lump. To help access quality information we continually develop materials with information focused on our suppliers and tappers. Lectures and courses are also constant in our work business system.